About The IIC Voice Podcast
This is THE PLACE for IoT Leadership Know-How and where the IIoT, AI/ML and Blockchain Industry trailblazers come to talk.  Listen to real-life, usable application of IoT technology in action and Industrial innovation with IoT Technology synergize for strategic growth.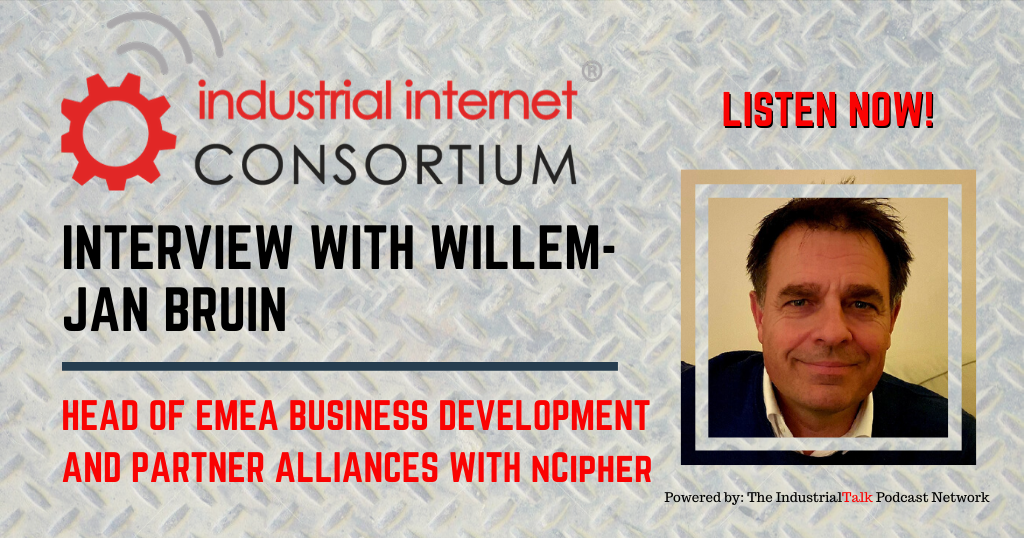 Live from IoT Solutions World Congress, IIC Voice Podcast interviews Willem-Jan Bruin, Head of EMEA Business Development and Partner Alliance at nCipher Security. Live From IoT World Congress Mr. Willem-Jan Bruin with nCipher talks Cyber Security and Industry 4.0 Block Chain, IoT, IIoT, AI, ML and Cloud all have needs for powerful Cyber Security strategies…
November 13, 2019: Over-The-Air Special Interest Group Workshop - Stuttgart, Germany.  In this workshop, IIC will continue to define customer-validated requirements and jointly shape the future of OTA solutions with an objective of influencing the enhancement of and proposing new industry standards.  Find out more.
November 18 - 21, 2019: Q4 Member Meeting - Sydney, Australia (members only).  IIC members meet quarterly in one part of the world.  For Q4 2019, the members meeting will be in Sydney, Australia.  Find out more.
November 21, 2019: Industry Day at the Q4 Member Meeting - Sydney, Australia.  Join IIC for an interactive and informative day at the University of Technology Sydney where IIC members are leading the conversation around digital transformation, providing essential guidance fostering effective adoption of the industrial internet.  Find out more.
December 10, 2019: Trustworthy Digital Transformation Forum - Long Beach, California, USA.  Join IIC as experts offer security guidance for industries including aerospace, transportation, logistics, manufacturing, energy & utilities and municipalities.  Learn the importance of trustworthiness and assurance, how to measure, analyze and assess it as well as how to manage and govern it.  Find out more.
December 11 - 12, 2019: Open Edge Symposium - Long Beach, California, USA.  Open Edge Symposium was conceived to help you think smart and keep pace with the rapid developments at the intelligent edge - the beating heart of the industrial internet.  This two-day conference will explore this new computing paradigm by fostering discussion of key issues such as open architectures, interoperability, cost-efficiency rations, business outcomes and use cases.  Find out more.
The world is changing fast! Industrial businesses are juggling every facet of business maintenance and growth, ranging from technological/digital media adaptations to cash flow management and operational efficiency challenges. How do industrial business leaders stay current while managing growth and casting vision for the future? The answers could be found in a learning environment, but never before has there been a place for continuing education in the industrial business arena. UNTIL NOW…
The INDUSTRIAL ACADEMY IS HERE. Finally there is a clearinghouse for all things industrial to assist the business leader. Course offerings provide up-to-date applicable information in business development, technology, finance, operations and leadership presented in an engaging, movement-oriented manner by those in the know. These professionals don't just talk the talk. They walk the walk with purpose and passion for building not just the industrial business but also the people who make things happen.
The Industrial Talk family looks forward to learning and growing with you!