Business Beatitudes – The Beginning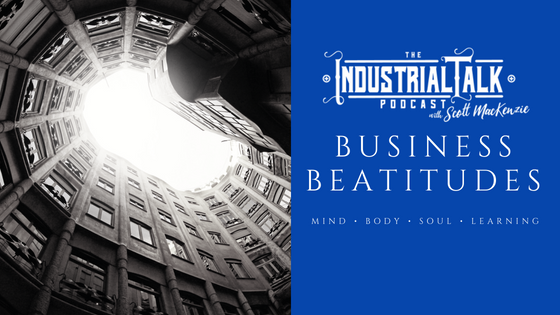 BEAUTIFUL ATTITUDES FOR BUSINESS LEADERSHIP SUCCESS
SUCCESSFUL are the SACRIFICIAL…They develop perseverance.
SUCCESSFUL are the HUMBLE…They know who they are, strengths & weaknesses. They ask for help.
SUCCESSFUL are the FAILURES…They will rightly value success as the result of falling and getting back up again & again & again.
SUCCESSFUL are the CALM…They develop enduring strength.
SUCCESSFUL are the SELFLESS…They are motivated to do what's right for others rather than what's just expedient.
SUCCESSFUL are the FORGIVING…They build connections rather than tear them down.
SUCCESSFUL are the GENEROUS…They understand servant leadership.
AND WE BEGIN…
Beautiful Attitudes for business…Why? Why does a deeply held regard for all things beautiful and uplifting have anything at all to do with leadership success in business? Not talking about the occasional good feeling resulting from accomplishment and reward, so go home and pop the cork. It's celebration time! No, this is the consistent, eternally-abiding sense of bringing good into the world simply because it's right. BUT IS IT SUSTAINABLE? Is the idea that a beautiful attitude brings business leadership success just a touchy-feely, kumbaya pipe dream? I believe it is definitely NOT. Sustainable regard for the beautiful in our attitudes is actually the pre-requisite for admirable leadership and business success. They are easily seen as a match made in heaven if one simply takes a moment to consider the alternatives…anger, bitterness, revenge…YUCK! (And frankly, no fun at all.)
Business Beatitudes provide structure, the bones necessary for stability and growth. Without the BB, founding principles are MIA, leaving the business leader to flail in the changing winds of trends and market forces, minus the Monday-morning quarterbacking that can be quite helpful in the evaluation re-cap. (You know, the "I'll never do THAT again" file.) I've lived in the changing winds, on the receiving end of market-forces victimization, and if I'm honest with myself, may have been perceived a time or two as the giver as well. (We'll talk about the Law of Unintended Consequences later.) But I digress…
Where do go with all of this? We take it into the marketplace, putting the Business Beatitudes to the test, a stress-test if you will, of their usefulness in bringing about quantifiable change to the bottom line AND happiness in the workplace. When the Leadership is laser-focused on building sustainable Beautiful Attitudes and EXEMPLIFIES them, the business as a living entity not only grows but THRIVES.
Let's get started NOW!