Let's Get Physical … Therapy with CORA. A new podcast series committed 100% to your positive well-being. That means mind, body AND spirit. It's the FIRST of its kind podcast featuring cutting-edge conversation, evidence-based treatments, trendy advice and relevant, experiential content carefully crafted to offer a holistic approach to your overall Health & Wellness. Consider it a new spin on life!
When you're in pain, you want [immediate] relief. That's why the best and brightest professionals, clinicians, certified specialists, and expert guests are so energized and inspired to become that resource for listeners through this direct-to-consumer medium of Podcasting.
Each episode will connect you directly with movement and exercise specialists, thought leaders, and educators with the knowledge and understanding of the body's physiological responses to pain. Actionable insights distributed straight to your listening device that include proven solutions for pain reduction, reduced disability, reduced depression, improved quality of life and so much more.
Podcasts are POWER! CORA believes that consistent communication, connection, and competency is the most effective way to champion inclusivity for all. Because every patient and every community deserves access to high-quality physical therapy, no matter the circumstances. The CORA team is deeply invested in forging human connections and delivering life-changing experiences. Patient-centered care is proof positive that improved clinical outcomes are directly related to this community-based approach. After all happy patients achieve better results, right?
Join us on this remarkable journey guided by your feedback, your ideas and your questions. CORA is here to help YOU find a sense of control and choice over your long-term health! Be engaged. Become motivated. Get back to living your life pain-free, so you can treasure life's moments – in the moment.
At CORA, everyone is welcome with more than 4,000 insurances accepted and 24-48 hour scheduling that gets you in the door, fast! No referral required and no strings attached. Listen today, experience the difference tomorrow.
Welcome to the CORA Community!
Questions or suggestions for future Podcasts? Email connect@corahealth.com and a member of our team will be in touch.
"Our bonds with people will move us forward into the new decade and beyond."
Dennis Smith, President & CEO of CORA Physical Therapy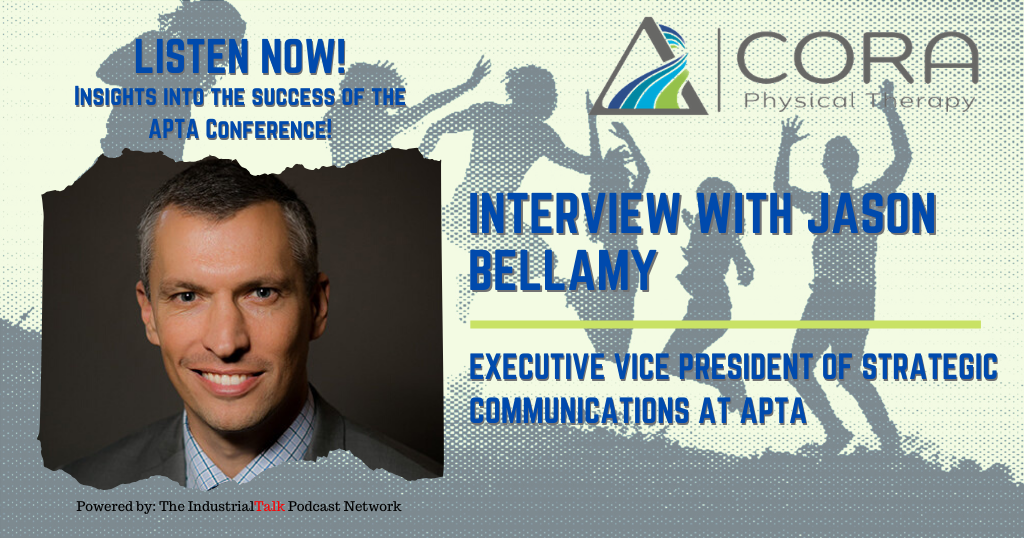 Live from APTA Combined Sections Meeting, Jason Bellamy, Executive Vice President of Strategic Communications at the American Physical Therapy Association, sits down with CORA Physical Therapy to talk about the APTA conference and the growing success and innovation impacting the PT profession.You can find out more about Jason and the fine team at APTA from…