Unsecured Industrial Loans with Keith McAslan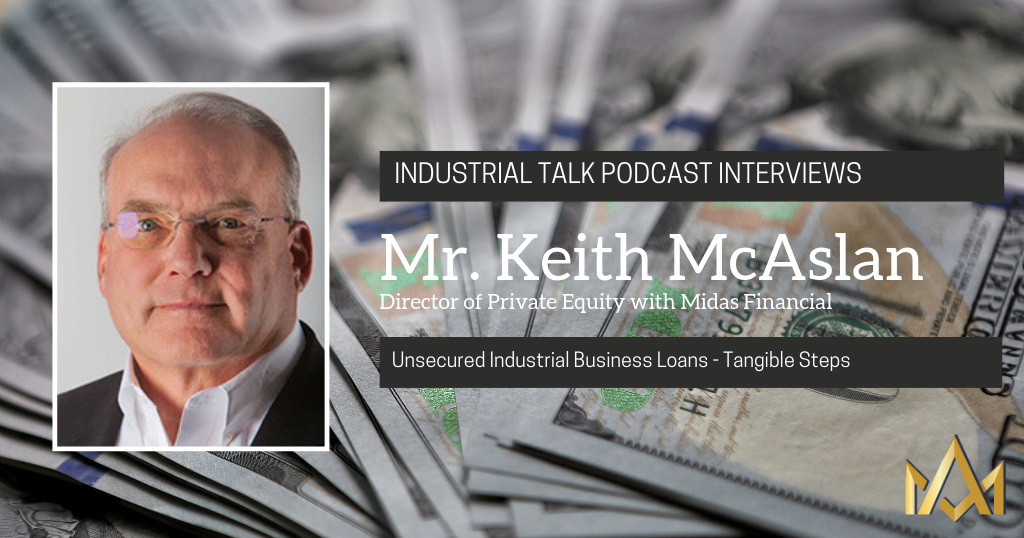 Background: Now that we talked about the importance of good credit in a previous Industrial Talk podcast, now let's focus on getting a business loan for working capital, expansion, inventory, receivables or perhaps payroll if cash is coming in slowly. One item of note is personal credit is not weighted as heavier as the viability of the business for business loans, however having a credit score above 600 is key.
Business Background:
Years in business: 2 years plus
Annual Revenue: $100k plus
Unsecured Business Loans (does not impact personal credit or require a personal guarantee):
Loan Amount ranging from: 50k-500k
Rate starts at 4.99%
Terms: 6 mo, 12mo, 18mo, and up to 5 years
Business Documentation Required:
Complete a lending application that includes information about your business
Last 2 years business tax returns (all pages must be included)
6 Months of Business bank statements
Business Tax License and EIN (If applicable)
Articles of Organization,
2 months of recent utilities bill for business
Driver License both sides (must be clear and show all corners of the driver's license – usually a photo using your smartphone is best versus a scan)
Social Security Card both sides
Time to Process and Fund:
Typically, once all the information is submitted the application is reviewed and can be closed in 10 days. However, if any information is missing, incomplete or ineligible that will delay the processing and extent the approval time.
Business owners seeking immediate capital to grow their respective businesses and either have no credit issues or have issues we have discussed today need to contact me immediately at keith@midas-financial.com or call me at 303-520-2493.
OTHER INDUSTRIAL RESOURCES:
Safeopedia: https://www.safeopedia.com/
Industrial Marketing: https://industrialtalk.com/industrial-marketing/
Industrial Academy: https://industrialtalk.com/industrial-academy/
Industrial Dojo: https://industrialtalk.com/industrial_dojo/
YOUR INDUSTRIAL DIGITAL TOOLBOX:
Bliss Drive: https://www.blissdrive.com/
Active Campaign: Active Campaign Link
BombBomb: BombBomb Link
Social Jukebox: https://www.socialjukebox.com/
OTHER RELEVANT PODCASTS:
Industrial Credit Repair for Securing Capital With Keith McAslan
The post Unsecured Industrial Loans with Keith McAslan appeared first on The Industrial Talk Podcast with Scott MacKenzie.