About Infor Energizing EAM Podcast
As a maintenance leader, your biggest challenges are eliminating downtime, preventing equipment breakdowns, and determining the most profitable way to prioritize resources to best support your business. When your daily operations run into unforeseen issues or improper planning (not having the right equipment, technicians, or tools in place when needed), it can cost millions in lost productivity.
There are a host of emerging technologies that can advance your maintenance maturity and streamline your reliability strategies: AI, BI, IoT, drones, mobile devices, cloud computing and others that empower true digital transformation. Infor EAM is best-in-class enterprise asset management software—purpose-built for growing maintenance organizations like yours. It's highly configurable, yet fulfills most of your needs right out of the box.
Here at Infor EAM Radio we want to equip you with the knowledge, business strategies and tactics that focus on educational speed, conditioning, discipline, and adaptation to be successful within the industrial market. All our podcasts are presented with concrete and applicable industrial solutions to maximize your investment of valuable time and energy.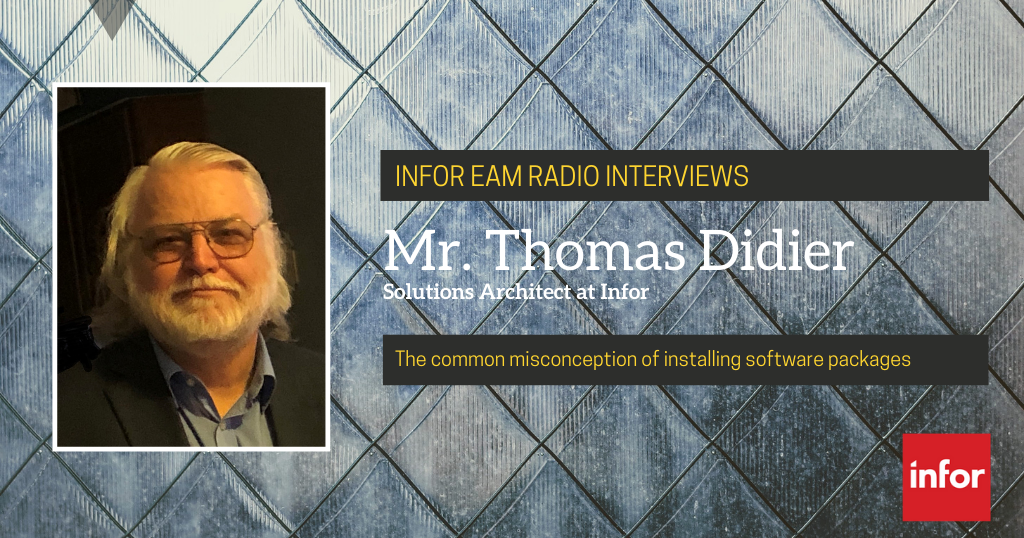 In this week's Industrial Talk Podcast we're talking to Thomas Didier, Solutions Architect at Infor and Infor EAM about "The Common Misconception of Installing Software Packages". Get the answers to your EAM implementation questions along with Tom's unique insight on the "How" on this Industrial Talk interview!